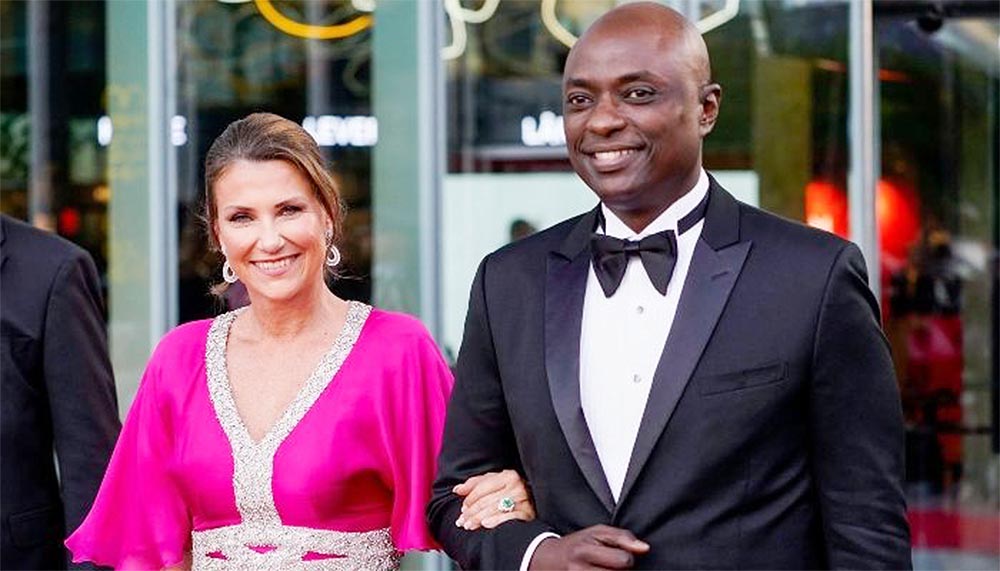 Princess Martha Louise of Norway and her fiance, self-professed shaman Durek Verrett, have set their wedding date.
Princess Martha Louise: Norway's princess sets date to wed shaman
Norway's Princess Martha Louise will marry her American partner, self-styled shaman Durek Verrett, next summer, the couple has announced.
King Harald V congratulated the pair, saying he was happy to welcome Mr Verrett to his family.
The princess relinquished her royal duties last year to run the alternative medicine business she shares with her fiance.
Mr Verrett is known for promoting unfounded medical practices.
He has suggested cancer is a choice and sold medallions online said to ward off Covid-19, while Princess Martha Louise has claimed she is able to communicate with angels.
They announced their engagement in June 2022 and received the king's blessing.
"We are excited to have Durek Verrett join the family and we look forward to celebrating the big day with them," Norway's king and queen said in a statement released on Wednesday.
"We wish Martha and Durek all the best."
The wedding will be held in the scenic Norwegian town of Geiranger, on the shores of a fjord designated a Unesco World Heritage Site.
"We are incredibly happy to be able to celebrate our love in Geiranger's beautiful surroundings. It means a lot to us to gather our loved ones in a place that is so rich in history and spectacular nature," the couple said.
Mr Verrett will move to Norway and join the royal family without holding a title, Norway's state broadcaster NRK reported.
The Hollywood guru, who describes himself as a "6th Generation Shaman" - has claimed to have risen from the dead and to have predicted the 9/11 attacks in the United States two years before they took place.
Mr Verrett, who is African-American, has acknowledged that his beliefs can be uncomfortable for some, and has argued the criticism he faces is due to racism.
Norway princess gives up royal duties
Meanwhile Princess Martha Louise has attracted controversy in Norway for decades for her involvement in alternative treatments, including starting a school that aimed to help people "get in touch with their angels".
She has said that she was "aware of the importance of research-based knowledge", but that she believed alternative medicine can be "an important supplement to help from the conventional medical establishment".
The 51-year-old had been accused of using her royal title for competitive gain, and a palace statement made last November said that she had relinquished her "patronage role" so as to "distinguish more clearly between their activities and the Royal House of Norway".
King Harald had decided she would keep her title, the statement added, but the princess agreed not to use it in her commercial endeavours.
The princess was previously married to author Ari Behn. They divorced in 2017, and Mr Behn - who had discussed suffering from depression - died by suicide on Christmas Day 2019.
Princess Martha Louise is King Harald's eldest child. Her younger brother, Crown Prince Haakon, will succeed his father as king.
By Mattea Bubalo
BBC News
13 September 2023
Original article HERE